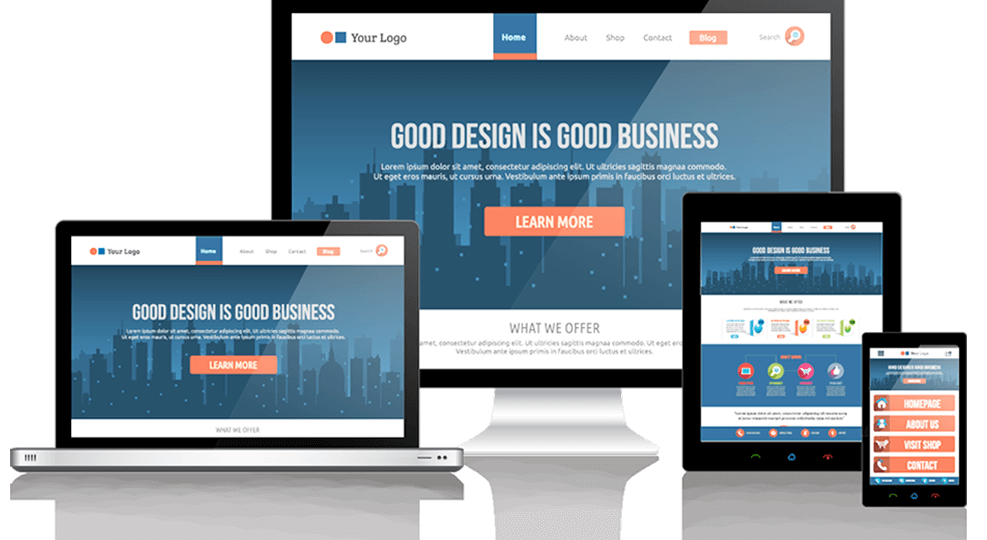 There is no doubt that an overwhelming majority of people are using a mobile device exclusively – their smartphone predominantly and also tablets to a lesser degree, to access the internet. This trend for using mobile devices is getting stronger every day. Over 70% of all users are finding websites, using apps and engaging in social media, banking, shopping, finding locations via GPS, calling merchants and more through their phone and tablet. More than 50% of those users are exclusively using their phone.
A good website is the hallmark of professionalism for every business owner. It creates a subconscious message that the company with a good website is probably a quality company to do business with. Sending visitors to a website that is old school, unprofessional and not mobile friendly conveys that your company is not innovative and not the best choice. This subconscious message is the power behind decisions – regardless of your content and your reputation, an unprofessional website makes a statement all by itself – and generally one that compromises leads, clients and profits.
Potential clients who are searching for attorney services online, will choose to do business with those who have adapted – they will not stick around on a website when they have to scroll to the right, stretch out content and struggle to fill out forms.
Mobile Websites
Mobile websites are alternate versions of a desktop / laptop site, designed to accommodate users on smartphones and tables. They are quick loading and aesthetically attractive for phone users – tablet displays are not always as appealing since content from mobile websites may display unbalanced with large unattractive spaces. Content and functionality on mobile websites is limited. The visitor is prompted to click over to the main desktop site to access more information. When they do, the site is difficult to view without stretching out content and scrolling to the right. A mobile website may look snazzy and professional but it does not solve problems with an outdated main site that is not mobile friendly. It also requires separate management and hosting, ultimately costing more time and money. During to confusion with indexing, Google now penalizes mobile websites. Business owners are advised to discontinue their use if they have not already done so.
Mobile Apps
A mobile app does not serve as the mobile version of a website. Apps are appealing to some mobile users and since text messages are associated with a 98% open rate, push notifications to this niche market can be very effective in producing leads, acquiring new clients and selling additional services to existing clients. Mobile apps reach a niche and limited mobile market, must be managed by the app developer, and are generally designed with limited functionality, linking the visitor over to the website for access to important information that is not available on the app. If the website is not professional and mobile friendly, the same problem exists as with mobile websites. Visiting the main site for the majority of content does not provide an optimum experience for mobile app users.
Responsive Web Design
Responsive web design provides the user with an optimum display of all of the website content on every device whether they are on a desktop with a large monitor, a small laptop, tablet or smartphone. All types of content automatically adjusts for the device and whether it is viewed in the horizontal or vertical orientation. For example, content in four columns on a desktop will likely display in 2 columns in a vertical tablet view and display in one column in a phone vertical and horizontal view. The menu on mobile devices generally displays as a dropdown.
With quality responsive design, interacting, viewing and reading content on every device is effortless, balanced and aesthetically pleasing. From filling out forms to viewing a video or image, joining an email list, getting search results, reading news or blog information, signing up for a webinar or other event – all of this is presented as an optimum experience on every device where it is viewed. In some situations, certain content may be selectively omitted from mobile devices but this is easily managed through a single user friendly website admin area.
Responsive web design is the only type of mobile friendly web design that is approved by Google. If your site is not mobile friendly, it will no longer be indexed by Google at all. This is a really good reason to consider a responsive web design for your business website.
Watch the Video and Learn More About the Differences between Mobile Websites and Responsive Design
Where will you go from here?
There is little doubt that attorneys in virtually every niche of the law can benefit from mobile friendly responsive web design. Attorneys who are capturing quality leads online are growing a sustainable law practice through their branded, quality, mobile friendly website with strategies to drive targeted traffic to their website. What you choose to do with this information can be the difference between a thriving, growing practice or a constant struggle to generate leads and attract new clients.
What Would a Detailed Analysis of Your Online Presence with a Plan for Generating High Quality Attorney Leads in Your Area and Practice Area(s), and a Substantial ROI Be Worth to You?
Request a Free Consultation
Whether you're an attorney in your own practice or a partner in a large law firm, we have digital marketing skills and strategies to help your business succeed. Regardless of your practice area and degree of competition, we can help you through responsive website design and development, video, social media, and marketing services that engage, convert, and grow your brand and revenues. Our consultations are free and available through phone and screen sharing. Contact us now by clicking the button below.