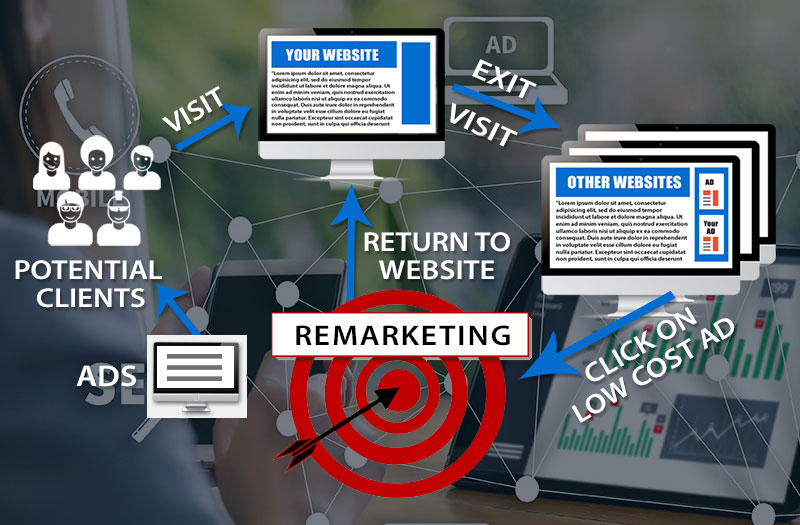 What if you could maximize your Google AdWords results and generate high quality leads at a fraction of the cost? Typical Google AdWords for PPC in  in a high competitive attorney nich like personal injury can cost as much as $30-$50 a click – a potential lead that can be worth a small fortune to a personal injury law firm.
Ad remarketing through Google AdWords allows you to reach the very same people who clicked on your ad from search results and visited your landing page. But then through ad remarketing, your ad follows them around and shows up on high traffic sites that they visit. As they see your ad again and again, the prospect begins to think that you are everywhere – a credibility and branding tactic that makes conversion to a lead a lot more likely. And this is a motivated potential client who has searched by keyword and location, already visited your landing page and has a strong interest in your services. Now when they see your ad come up on major sites that they visit, they are much more likely to  a click again. Only this time when they click on your ad again, instead of paying $30 a click, that click costs $1.00 or less. This greatly expands your ad reach at a very affordable cost.
Ad Remarketing and Google Display Network Ads
Remarketing ads, displayed as banner ads, show up on about 5-10 typical websites that an average user visits which are part of the Google Display Network. This network consists of about 20 sites. It is different from the Google search network where keyword and other targeted factors produce sponsored ads along with organic search results.
The Google Display Network consists of major news sites that generate revenue through advertising banners. When they have extra advertising spots, these sites use Google Display Network to fill the rest of their banner ad spots. Your ad reaches the same visitor who clicked on your ad from sponsored search results and follows them as they browse these sites 10-18 days out of the month. Only the next time they click and quite possibly convert into a lead and client, you pay $1.00 or less.
What Would a Detailed Marketing Analysis with Plan for Generating High Quality Attorney Leads in Your Area and Practice Area(s), and a Substantial ROI Be Worth to You?
WHY CHOOSE US FOR YOUR PPC & REMARKETING SERVICES?
Whether you are an attorney in your own practice or part of a large law firm, we have digital advertising skills and strategies for PPC and remarketing that get results. Ask us how our innovative strategies can help you to capture more market share and produce sustainable business growth – all at a higher ROI and regardless of competition. Our consultations are free and available through phone and screen sharing. Contact us now by clicking the button below.