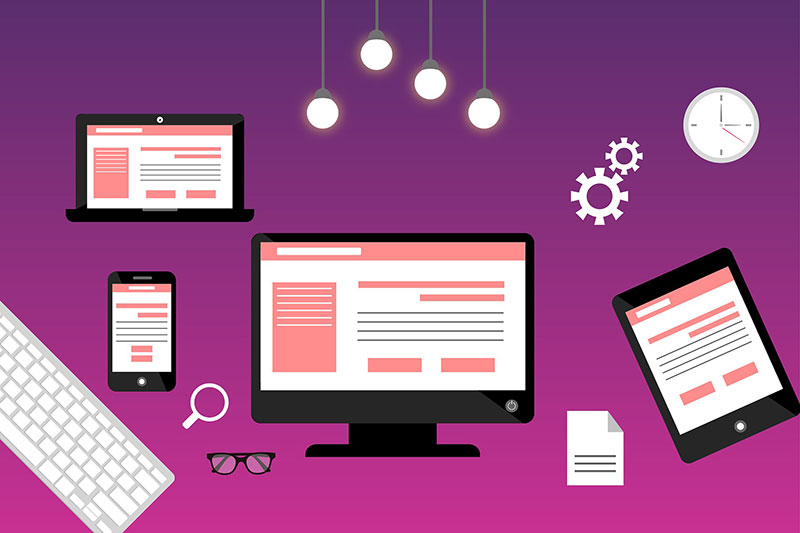 Getting Your Website to Produce a High ROI
Want to know how to get website visitors immediately engaged with your message and wanting to know more? What if you could get them to take immediate action which might be to call you, fill out a form, opt-in to your email list, or to buy a product. You are about to learn how to create an effective high-converting responsive web design that can substantially boost leads and sales and keep customers coming back.
How and Why Design Converts Visitors to Leads and Customers
Good web design is very much the same as a retail store that provides its ideal customer with an inviting, enticing, spacious, well-organized interior design, signage and merchandise. Imagine walking into a clothing store where you want to shop. You probably aren't aware of it but a quality store is staged for your ultimate shopping experience. The colors are balanced, appealing, and carefully chosen for the industry. Top sellers are at the front. The isles are spacious where you can walk around with your cart. The signage helps you to navigate and find what you're looking for. It is a friendly place where you can get assistance for free. When you're ready to check out, there is a clear and easy path to the register with enticements to buy even more. And you can sign up to get promotions by email with incentives.
Stores like Wallmart, Publix, Dillards, and other successful brands know the value of investing in interior design, colors, displays, signage, merchandise, customer service, and follow-up. They understand the importance of reaching their customer's subconscious mind and creating a positive and memorable buying experience.
Shoppers aren't even aware of this pleasurable effect when they walk into the store. But their subconscious mind is at work, analyzing and making judgements. They are subconsciously excited through appealing design features and merchandise that targets them as a customer, creates an environment of trust, and includes something of value that is unique. The customer feels happy, safe, valued, and excited. They find exactly what they need and want. This is a shopper who will buy, return to that store, and tell their friends.
So what does shopping in a retail store have to do with good responsive website design? The answer is everything. These are the precise elements that will be present in a high-converting website.
Unlike the store that is the same for every shopper and gives the shopper more opportunities to stick around, the visitor on a web page will click off in a few seconds if they don't see what they want and need. And to make it more complicated, the website design changes depending on whether the website is viewed from a desktop, laptop, tablet or mobile phone.
Mobile Viewing Must be Optimal
Most people today are browsing the web, shopping, and making all types of buying decisions from their phone and tablets – the internet is the main place they go daily to find a restaurant, doctor, dentist, lawyer, plumber, and tangible products from hardware to clothing and shoes.
Are you beginning to see why it is essential to create the ultimate experience online through responsive web design that provides optimal views from every device and viewing orientation? A website, unlike a store, has only seconds to make a powerful connection and lasting impression with a buyer or prospective client. Good responsive design will not leave the change in display on a phone or tablet up to chance. It will integrate collapsible elements that will not force the phone user to scroll through mounds of text. And when appropriate, it may present an entirely different layout or content based on the type of device being used.
Website Content to Engage and Convert
Good responsive design is relevant, engaging and pleasing to the eye. But as much as colors, layout, space around elements, position of content and choice of content elements is important, the type of content matters as much or even more.
Elements of Poor Converting Websites
Mounds of confusing text that people won't read.
Poor or inappropriate headlines.
Unclear targeting.
Multiple actions on a single page that confuse the visitor.
Failure to establish credibility.
Failure to add substantial value without risk.
Poor menu structure and organization of content.
Poor page layout with unbalanced content.
Failure to use short engaging videos or slideshows.
No call to action on pages and posts.
Provide a less than optimal mobile experience.
Tips for Good Responsive Web Design
Check all contents for display on desktops, laptops, tablets and phones. Check horizontal and vertical views for mobile devices.
Adjust content on all types of devices and orientations as needed to enhance display of contents.
Use appropriate padding and margins for all devices.
Make sure contents displays in a logical order in all devices.
Make sure headlines display above associated content.
When showing pictures, make sure the picture is relevant and displays in the appropriate order.
Strategic Tips for High Conversions
High quality video for company branding, sales, and promotions.
Responsive home page slider with compelling, targeted content.
Content clearly defines the problem for ideal customers.
Biographical info that supports your expertise in your industry.
Your unique solution or why your services are better.
Data that supports your solution or services.
Customer testimonials.
FAQs the define and overcome objections.
Time limited no risk offer with bonuses.
Presenting email opt-in offer to visitor upon exiting without conversion.
Content presented in a logical order with formatting for readability and engagement.
Webpuzzlemaster High Converting Responsive Web Design
Webpuzzlemaster is a digital marketing agency with a one-stop approach based on current trends and proven practices. Following an analysis of your business needs, goals, budget and competitors, we identify strategies to help you to outperform your competition, capture more of your market share, and automate follow-up to increase sales from new and existing customers.
Unlike most other digital marketing agencies, we offer a turnkey approach to web design and development. In just a few weeks, you can have a site with powerful content that drives sales to you, increases your brand, and allows you to capture a significant market share. All of this is without causing you stress or taking up a lot of your valuable time.
Our lead generation and sales conversion techniques aligned with mobile marketing concepts, social media, video, SEO, Google and automation technologies are designed for customer acquisition, customer retention, strengthening your brand and reputation and helping you to achieve a substantial ROI with sustainable business growth. Our knowledge of WordPress and experience with advanced responsive web design is also top rate. If you're ready to take your business to the next level, request a free consultation.
Request a Free Consultation
Whether you are a local business, entrepreneur, attorney, healthcare provider, or eCommerce merchant, we have digital marketing skills and strategies to help your business succeed. Ask us how we can help you through strategic planning, branding, responsive website design, custom web development, video, social media, and marketing services that engage, convert, and grow your brand and revenues. Our consultations are free and available through phone and screen sharing. Contact us now by clicking the button below.