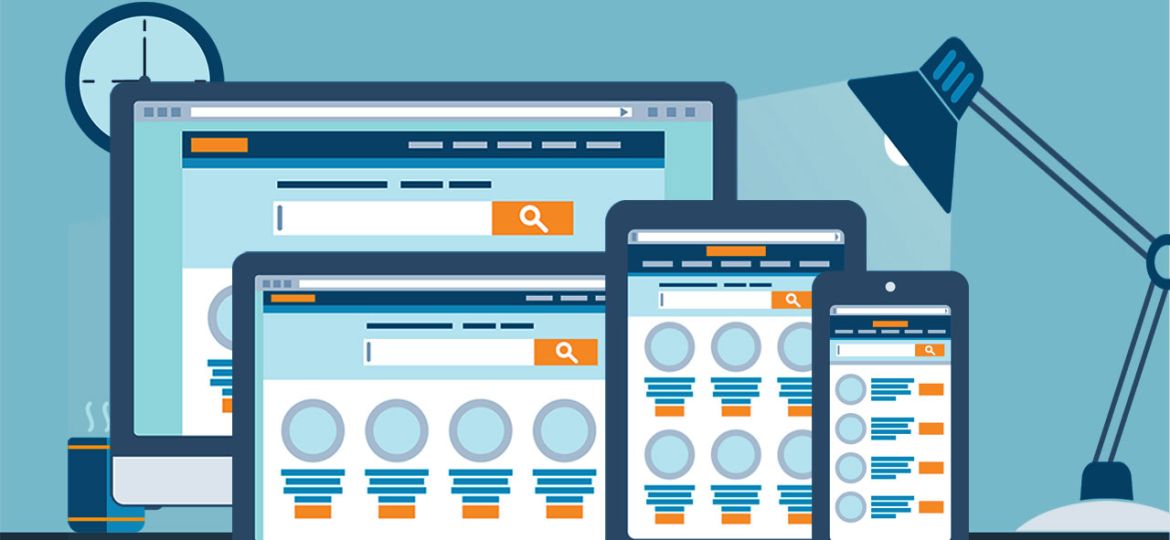 Is Your Website Helping or Sabotaging Your Online Results?
Your website receives traffic from search engines, social media, YouTube, reviews, apps, local directories, bookmarking sites, and word of mouth referrals. The website is the hub where the bulk of conversions occur – list building, lead generation, event registrations and sales to name a few. If the website does not provide a good user experience with a first rate responsive web design, visitors are likely to leave the site rapidly and never return. A poorly designed website may actually sabotage your online results. Keep reading to discover why.
Without a mobile friendly responsive web design, all your traditional advertising and online marketing from SEO to PPC and social media will be less effective. Responsive website design provides an optimum viewing and interactive experience for all users including web TV, desktop, laptop, tablet, and smartphone.
Mobile Friendliness is One of Many Goals of Responsive Design
With 90% of searches coming from Google (and many of them coming from mobile devices), it makes sense to pay attention to Google's algorithm that website visitors have an optimum viewing experience from their smartphone and tablet. If the site does not pass the Google mobile-friendly test, it is not indexed for appearing in search results. Just passing the mobile test is no assurance however, that the site is designed to target, engage, and convert visitors into leads and customers.
You might think you have a mobile friendly website because it passed Google's little test for mobile friendliness. In reality, that test is based on minimum standards and does not measure quality, layout, colors, and content. Google only cares if the content is readable and easy to access in the mobile device. They are looking for appropriate font sizes, line height, padding around links, and a display where the user views and interacts with content without manually stretching it out or scrolling to the right.
Just passing the Google mobile friendly test and getting into Google's search results might be giving you a false sense of security about the adequacy of your website as an effective conversion instrument. Passing Google's mobile friendly test should not be interpreted as a measure of a good user experience – one designed for engagement, interactivity, list building, appointments, event registrations, sales, sharing, and whatever goals are important to the mission and purpose of the business.
A Good User Experience is the Ultimate Goal of Responsive Web Design
There is no doubt that a good mobile friendly responsive website is one of the most important strategies for lead and sale conversions and achieving record growth in your industry. In addition to the design however, the website must receive targeted traffic and immediately hook the visitor on a web TV, desktop, laptop, tablet, and smartphone.
Even the best responsive design that optimally adjusts the display does not assure that the website will capture and hold the visitor's attention. To do that, the content must be written, formatted, and designed to target, engage, and provide an emotionally compelling, high-converting user experience. That is a very tall order.
The Emotional Component of Good Web Design
Have you ever experienced a bad feeling when you walked into a room or a store? Successful retailers know the value in the easy, logical arrangement of merchandise with signage in spacious isles for an optimum customer experience and ROI. The same principles of good design are true for a website where the user experience on TVs, desktops, tablets, and phones is even more important. After all, a simple click can determine whether the visitor stays or leaves the site, never to return.
The right organization of content, space between elements, colors, graphics, media files, headlines, and font styles can achieve a powerful connection with the user's subconscious mind – one where they are more likely to become engaged, explore the content, and convert into a lead or customer.
Obviously, the best web design in the world does not make up for a lack of relevant, optimized quality content.
Web Designers and Web Developers Are Not the Same
Mobile-friendly website design is an important strategy that can largely determine your success online. Choosing a web design and development company is not like buying a car where you purchase the same car with some variation in price and services only.
Many web designers are building websites but are not web developers. With simple websites, that may not matter. Similarly, web developers are not designers. Most will not detect design issues unless they are pointed out. Unless you provide detailed website documents for your website design, content, and functionality for all types of devices, the final result will be largely related to the skills and expertise of the web design and development team who is working on your project.
Coming Up Next: 3 most important factors in a good responsive website design.
Want to improve your online marketing and advertising results even more? Our next post will reveal some important tips that will help you to evaluable and choose a quality responsive web design company. You will learn the 3 most important factors for a good responsive web design.
We also invite you to request a free consultation with a complementary website analysis. This will be an informative session without any pressure to analyze the quality of your website and provide suggestions for improvement if indicated. We may also reveal some strategies that will allow you to outperform your competitors, regardless of industry or competition.
Download Local Business Marketing Reports for FREE!
Two Valuable Local Business Marketing Reports:
(1) How to Get and Stay Ahead of Your Competition in Any Local Market: 8 Strategies for Local Business Success Regardless of Industry and

(2) What Local Businesses and Professionals Must Know About Video Ranking to Get & Stay Ahead of their Competition. This report reveals YouTube production and marketing video strategies that will rank your videos on top of Google and YouTube search results – getting you views, clicks, subscribers, shares, and traffic!

These free reports are packed with powerful information and strategies that most digital marketing companies don't even know about.

Get Immediate Access now by clicking the button below.