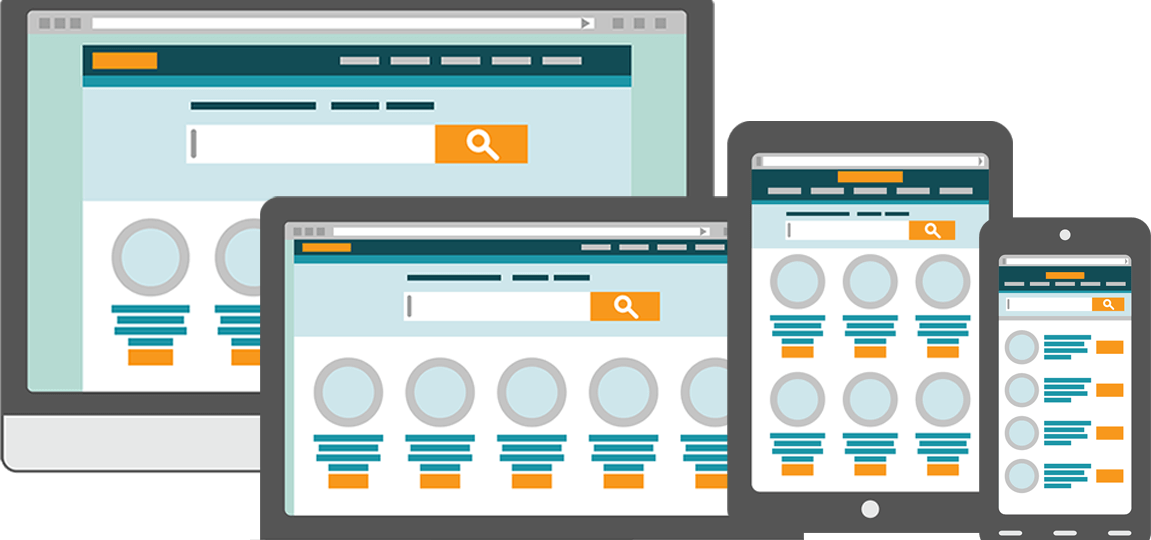 Recently in a website development group in Linkedin, someone posted a question about WordPress design and what would be the best strategy and theme for converting his existing site. I read through all the comments from web development companies and noticed that the information about themes and design was dated and archaic.
For the past three years, I have developed websites exclusively in WordPress from themes that I customized for design and functionality.  When it became apparent that we were beginning an explosive trend where mobile marketing was king on the Internet, I shifted to WordPress responsive web design.
The Evolution of Responsive Web Design
In the early stages of responsive design, theme selection was limited and there were many challenges. Support from theme developers was not optimum and in many cases and it required coding adjustments by developers. Sometimes updates to WordPress created problems and there were plugin incompatibilities to resolve. These issues were clearly beyond the scope of support from a theme developer and rightly so.
For many years, I worked closely with developers who had the skills to make coding and CSS changes that I didn't do myself. Coders or developers are a special group of people. These geeks are seldom skilled in design and know little about marketing integration or project strategy. Basically they do what they are instructed to do. Even with the best wire frames and mockups, it is not uncommon to have to go back and forth multiple times to get the design and functionality to meet specifications. This was a daily source of stress and frustration until something happened within the past two months to change all of that forever.
The Birth of Revolutionary WordPress Responsive OptimizePress 2.0 Theme
I had used OptimizePress theme in the past to create highly effective landing, squeeze and sales pages but this theme was not responsive and limited for building a website. When I was under the gun to create a membership site in record time recently, something miraculously came across my email about the new launch of WordPress responsive OptimizePress2 theme. But this theme was unlike any previous version or other theme development. Not only was it packed with numerous high converting responsive templates for sales and marketing and the ability to easily create templates, its easy live editor drag and drop functionality made it possible to create layouts designed for conversion.
The theme contains a powerhouse of elements for headlines, text, video, audio, bullets, images, opt-in forms, and short codes for almost any type of content integration – all of this is fully responsive with optimum displays in mobile devices, laptops and desktops. Every page can be independently managed from the header, footer to the menus and options for SEO, redirects and more. And OptimizePress 2.0 includes a powerful membership plugin making it possible to generate revenue from eCommerce driven responsive membership sites that support up to 10 levels of membership. Affiliate software can be integrated to further leverage sales through affiliate marketing.
No Special Skills Needed to Manage this Theme
Once the design and layout is set up, this theme is easy to manage and enhance through plugin integration. Instead of being stuck with sites built from limiting software that lives on a server, isn't responsive and can't be moved, WordPress development provides the ultimate flexibility and can be moved to another server if desired.
A Theme that Has Changed My Business and My Value to Clients
I know for a fact that OptimizePress 2.0 will change my business forever. With this theme, my reliance on developers has been reduced by more than 85%. As a skilled project strategist and marketing pro, I can effectively create sites quicker with robust designs and functionality.
Is it perfect? No but no theme is perfect. The theme is new and like all new products, there are issues and many enhancements planned. The theme developer has been hard at work fixing bugs and since it's launch, there have already been multiple upgrades. But I can honestly say that this theme largely eliminates challenges with developers. So web development companies need to watch out if they are stuck on the old ways of development -ways that are associated with excessive costs and time, and where design and functionality comes with a heavy price tag.
Need Some Help with Your Website Design and Development?
We are a full service web design and development, branding and marketing agency. Our skills, experience and strategies help our clients by targeting their ideal customers, and generating quality leads who convert into loyal customers for life. Through effective branding, marketing, and advertising that works best in today's mobile, video and social online environment, we help local  businesses achieve market domination with sustainable growth. If you are looking for strategies that will put you in front of your competition, make you a leader in your market and maximize your ROI, contact us for a free consultation and proposal.
Request a Free Consultation
Whether you are a local business, entrepreneur, attorney, healthcare provider, or eCommerce merchant, we have digital marketing skills and strategies to help your business succeed. Ask us how we can help you through responsive website design and development, video, social media, and marketing services that engage, convert, and grow your brand and revenues. Our consultations are free and available through phone and screen sharing. Contact us now by clicking the button below.