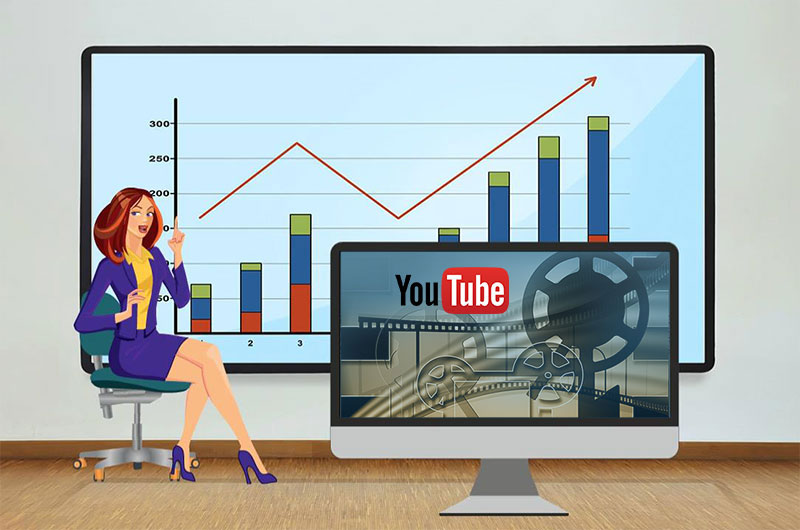 There is no doubt that video is hot. Savvy businesses are using it to grow their brand, capture market share, and generate a loyal following with a significant return on their investment. Video marketing has achieved explosive growth with no end in sight.
Imagine the impact on your business when your video is ranking at the top of page 1 of Google and YouTube for the most important keywords your market is searching.
Before we get into how we market YouTube videos and achieve top ranking in both YouTube and Google, it is important for you to understand why YouTube marketing and video are so important to your business. Here are some must know recent facts and statistics:
According to YouTube statistics by Fortunelords.com as of January, 2017, almost 5 billion videos are watched on YouTube every single day. In an average month, eight out of ten 18 to 49 year olds watch YouTube Video. This has grown from 1 billion unique users every month, or nearly one out of every two people on the Internet in 2013 (Reuters).
Since YouTube is owned by Google and is 2nd to Google in popularity, it attracts massive numbers of people every day who use YouTube as their primary source of information on a wide range of topics.
Youtube's watch time increased more than 5 times for shopping online.
People on YouTube watch 1 billion hours of video or more daily. This trend is global – not just in the U.S.   Google says that 6 out of 10 people in their homes prefer watching online videos to TV.
75% of all the videos watched are viewed on a mobile device. Video ads, product videos, tutorials, video blogs, etc. all make their way into this platform. Of the mobile views, 92% get more shares for brand recognition and achieve enormous popularity in a short period of time. Video that is mobile optimized has higher view rates. Additionally, video with captions is recommended as many mobile viewers will watch with their sound turned off.
The trend for live video on social media platforms is gaining more video views.
68% of people watch short marketing videos up to 3 minutes.
Invisia, a marketing, branding and strategy agency, reported that mobile video consumption increases 100% annually.
Wyzowl's 2021 survey of 813 marketing professionals and online consumers  in December of 2020 revealed that

89% of all video marketers achieved a higher ROI on their websites.
83% of video marketers found that video significantly increased their lead generation.
People watch on average 16 hours of video weekly.
84% who watch a brand's video, are likely to purchase that brand's product.
68% of consumers say the pandemic has increased the amount of video that they watch online.
Most common business video views are explainer videos (73%), social media videos (67%), presentation videos (51%), sales videos (41%), and video ads (41%).

The fitness company Tiger Fitness attributed their expansive fan base to video marketing with an associated 60% ROI.
Although many businesses use video for strengthening their brand and connecting with their target market, 81% use it for marketing and sales.
Other Facts About Video Marketing
People primarily watch videos for entertainment, information, learning, and shopping but they will not stick around unless it is quality video. Facebook and Instagram are main hubs where small businesses and marketers share video content through promotional ads, vblogs, and live video streams. This strategy is used by 90% of all brands using digital marketing methods to grow their brand and get more internet traffic.
How to Get Your YouTube Video to Rank on Page 1 of Google & YouTube
Are you ready to get in front of your hottest market through YouTube Video Marketing that ranks your videos in top Google and YouTube search positions?
You can get your share of the 5 BILLION Daily YouTube Video Views through strategic video production and marketing services. You can dominate your market as you inform, educate, promote products and services, establish your expertise, strengthen your brand, generate leads, and acquire loyal customers for life.
Video Production vs. Ranking
Most video production companies do not provide video ranking services. Those that do, provide YouTube marketing that may or may not rank the video in Google, and may take considerable time and costs to achieve and maintain top ranking positions.
Our specialized software and video ranking strategies however, can overcome these obstacles, producing exceptional ranking results in both Google and YouTube rapidly. When combining professional quality video production services with YouTube marketing, the results can be extraordinary with a significant return on investment.
Video Production & Marketing Services that Enhance Your Video Conversions to Leads and Customers
Top Video Rankings in Google and YouTube
High Converting Video Commercials
High Converting Lead and Sales Funnels through Video Landing Pages
Higher ROI through Video Ad Remarketing
YouTube Channel Set Up with Profile
Add YouTube Channel Playlists
Add Channel Subscribers and Comments
Optimizing YouTube Video
Monetizing YouTube Video
YouTube and Google AdWords Advertising
Isn't it Time to Use Video to Take Your Business to the Next Level?
Request a free consultation without any pressure and let us show you what we can do to outrank your competitors on Google and YouTube with high-converting video services.
Download Local Business Marketing Reports for FREE!
Two Valuable Local Business Marketing Reports:
(1) How to Get and Stay Ahead of Your Competition in Any Local Market: 8 Strategies for Local Business Success Regardless of Industry and

(2) What Local Businesses and Professionals Must Know About Video Ranking to Get & Stay Ahead of their Competition. This report reveals YouTube production and marketing video strategies that will rank your videos on top of Google and YouTube search results – getting you views, clicks, subscribers, shares, and traffic!

These free reports are packed with powerful information and strategies that most digital marketing companies don't even know about.

Get Immediate Access now by clicking the button below.