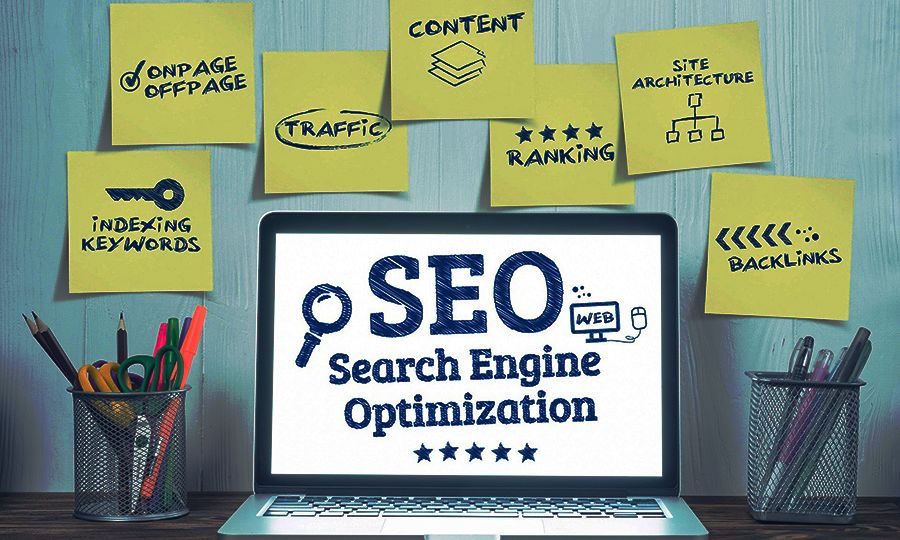 Unlike interruption forms of advertising and marketing that convert far fewer buyers, search marketing is an important method of attracting targeted customers who are motivated to buy. Search marketing includes organic rankings and sponsored search from advertising commonly known as pay per click advertising or PPC.
Organic rankings may come from website pages and posts, social media posts, YouTube, and high authority directories. With the right keyword selection and onsite and offsite SEO strategies, organic rankings improve over time and can be a significant source of targeted website traffic.
Page 1 Google Rankings Means More Website Traffic & Profits!
Google does a lot to help local businesses. Did you know that Google automatically provides local search results based on the customer's location? It is a fact that the relative distance of the searcher from the location of the local business is a ranking factor for Google. Whether they search on their phone, tablet, or computer, the results they get will be local for them. This will happen even if they do not include a city name in keywords they search.
Of course, the business must have an effective local listing to be included in search results. This is why an important local business online marketing strategy is an optimized listing in Google My Business for each business location.
Why Local SEO Matters
With the right local search engine marketing strategies and over time, local SEO services, will increase your search engine rankings and drive more local business to you. This provides you with powerful access to an exploding market of mobile customers who in many cases, exclusively rely on searching from their mobile phones and tablets. If you aren't visible on the 1st page of map results and Google, you are missing out on huge numbers of hot leads and customers.
Typical Local SEO Services
Organic SEO involves onsite SEO services to make the site compliant with Google's algorithms and likely to rank with ongoing SEO services. All of this is integrated into a website and online properties to produce top Google ranking:
Keyword research
Onsite SEO including tag rules, URL structure, body copy rules, image optimization, Latent Symantec indexing for unique pages, internal link silo, schema relevant to product or offering, code bloat removal, sitemap creation and submission
Mobile Optimizing
Optimizing website code for SEO
Writing content for SEO
Optimizing existing content for SEO
Creating and distributing relevant content to link back to the site
Install Google analytics
Acceleration techniques with images, approved link tactics, schema, and code bloat removal
Social shares with views, shares, likes or all and embed on a page
Google maps listing including searching for and deleting duplicate listings
Listing of the site across main search engines, social networks, and directories
Exact match Name, Address, Phone Number (NAP) in Google, website, directories, and apps (name, address, phone number)
Create citations with high authority new directory listings
Monthly Google Analytics, link building, and keyword tracking reports
What if there were other less known methods of boosting and accelerating Google organic rankings? Fortunately, there is but most SEO companies don't know about or use these methods.
3 Innovative SEO Services to Boost Google Rankings Even More
IFTTT Content Syndication and Link Building

YouTube Video Ranking for Google and YouTube

Video Performance Strategy with Guaranteed Results
1. IFTTT Content Syndication and Link Building
IFTTT is a web-based tool that has a host of benefits and can be used as an effective method to automate some part of link building for SEO as well as syndicating content to various social media accounts of your business and other high authority accounts and sites that are part of the IFTTT network. Over time as content is published, IFTTT content syndication and link building helps to increase website traffic, followers, shares, branding, and sales.
IFTTT is the short form of "if this then that." It means that when an event occurs in a particular channel, it automatically triggers an action on the other channel to which it is connected. The connection between the channels is established by a Recipe (also known as 'Applet'). We create applets connecting the THIS channel to THAT channel along with some basic settings in it.
This means that when you post to Facebook, Instagram, your blog, or YouTube, the post content will get syndicated to many channels automatically (high authority accounts in your IFTTT). The channels or network of accounts are created and branded for your company. You have full ownership with a spreadsheet for accessing the accounts.
2. YouTube Video Ranking
Google owns YouTube and gives priority in the SERP to keyword optimized video that is relevant to the search terms. The videos that we rank through YouTube video marketing services can be your original videos or videos that we produce and/or edit. We use special software to determine the best keywords and analyze your competitor videos to rank you in top Google and YouTube search results. Your videos often display with a thumbnail on page 1 of Google as well as YouTube.
3. Video Google/YouTube Ranking Pay for Performance Strategy
This is a unique and highly effective strategy that allows a local business to rank at the top of Google and YouTube search results regardless of competition and industry. We rank a single keyword phrase in up to six regions that may be cities, counties, or states. This no-risk SEO ranking method begins with careful keyword research from specialized software that reveals the best and most relevant keyword phrases associated with a significant search volume.
The keyword phrase is carefully selected based on search volume and a competitor analysis to assure clicks and traffic to your website.  After testing confirms top ranking, we produce several versions of the video with slight variations, so they are unique for ranking purposes based on Google's requirements.
The videos we create include a logo reveal, spokesperson intro and outro, several audio captioned slides with image and/or video backgrounds, background music and royalty free artwork and video footage when needed. You only pay when your keyword ranks in the top 3 positions in Google and YouTube.
Video ranking pay for performance is a strategy that is not available for all businesses. If you are interested, contact us to inquire about terms and requirements.
Local SEO - A Marketing Strategy for Market Domination
Local SEO is an important marketing strategy that no local business should ignore. When services target and increase exposure to high quality content, it provides a powerful pathway to market domination. Local SEO gives a local business access to their largest market of mobile users – people who use search marketing daily to find local products and services. Ask us how we can help you increase your market share, brand, and profits through our innovative and highly effective local SEO services.
Download Local Business Marketing Reports for FREE!
Two Valuable Local Business Marketing Reports:
(1) How to Get and Stay Ahead of Your Competition in Any Local Market: 8 Strategies for Local Business Success Regardless of Industry and

(2) What Local Businesses and Professionals Must Know About Video Ranking to Get & Stay Ahead of their Competition. This report reveals YouTube production and marketing video strategies that will rank your videos on top of Google and YouTube search results – getting you views, clicks, subscribers, shares, and traffic!

These free reports are packed with powerful information and strategies that most digital marketing companies don't even know about.

Get Immediate Access now by clicking the button below.