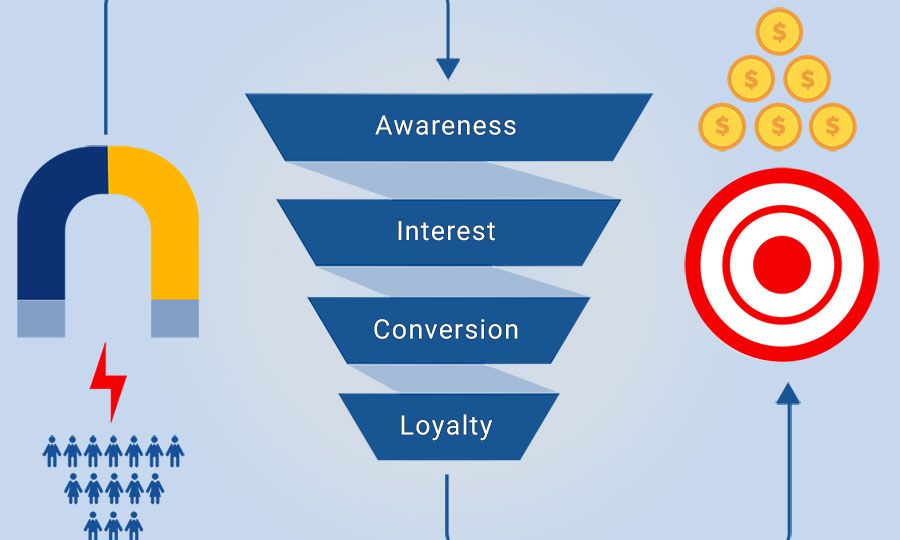 Lead capture funnels are an important strategy for business success. Leads are an important source of new business but as you know, not every lead is ready to move forward with a purchase. A lead funnel can be designed for sales and to capture prospects with varying degrees of interest and readiness to convert into a customer.
The funnel can be a powerful sales conversion strategy that produces a loyal customer who is likely to buy more products and services and give positive reviews that attract and convert more targeted leads. A good lead capture funnel will be based on a strategic plan, high-converting design, and content that targets and compels a targeted customer or prospect to take action.
A Good Lead Funnel Creates Awareness, Interest, Conversions, and Loyalty
An effective lead funnel will incorporate the sequential steps of awareness, Interest, conversions, and loyalty. Let's explore these in more detail.
Awareness
Although a prospect will have general knowledge of the product or service of interest, awareness involves the investigation of choices and determining the difference between businesses and the products and service they provide. Often this begins with an online keyword search or search of social media hashtags. This also occurs when a customer is introduced to a new product or service from a business that they already know, like, and trust.
Interest
This generally begins with an offer that solves a problem for that targeted prospect whether they are actively searching, discover the offer through an ad, or receive the offer in an email or text message. The offer must immediately engage, answer objections, be low or no risk, and have some incentive of value to take action immediately.
Conversion
The conversion may be the sale of a product or service, booking an appointment, registering for an event, or downloading a digital product that serves as a powerful branding and sales tool.
Loyalty
Strategies that maintain top of mind marketing via email and/or SMS with ongoing valuable information, special offers, coupons, and customer loyalty rewards can greatly enhance branding, customer retention, and positive reviews.
Lead Magnets for Attracting and Converting Leads in the Funnel
A lead magnet is an attractive incentive sending traffic to a landing page where a lead is generated via a lead capture form. The lead magnet should be something of value that is comparable in quality to the product or service that is sold. Many times a loss leader strategy is used.  This involves selling a product or service at a price that is not profitable to attract new customers where profits will be generated from subsequent sales.
Lead magnets are often delivered in a digital format and have a high perceived value to the target market. When the lead capture form is completed and sent, the digital incentive gets delivered automatically upon confirmation of the email. This increases the likelihood that the visitor will opt-in with a valid email where follow-up automations can be received.
The lead magnet may be a BOGO offer, free item with a purchase,  complimentary consultation, free event or downloadable white paper with information that is valuable to the prospect and not readily available. Regardless of the offer, it should also add the lead or customer to an email list where automations and ongoing emails can promote events, provide special offers, sell more products or services, and solicit reviews,
High Converting Landing Page Design
Lead funnels originate on a landing page that is specific for generating that lead. The page contains engaging information that is targeted, compelling, informative, overcomes objections, has a no-risk offer, and instills urgency to take immediate action. The page also contains a lead capture form or a button to buy, register, or download which captures the same contact information in a database. The page and form should display optimally on every device where it is viewed.
Most businesses fail miserably at lead generation through the internet because of a poor quality landing page. The landing page is where the visitor lands from a link they clicked from search results, social media, or an ad.
The landing page should be laser focused on the conversion goal with a compelling offer for the target market. It should be optimized with keywords that may attract potential buyers from search engines. If the page is on your main website, it should exclude the top header and menu that serves as a distraction.
Besides attracting traffic from search engines including social media, the landing page can also be used for PPC advertising, and promoted to your opt-in email list of prospects and customers via email and/or SMS marketing. Elements of the landing page that can make it more effective include:
Colors that are appropriate for the industry
High quality emotionally compelling graphics
A professional explainer video
Well-written copy for headlines, sub-headlines and page text
Pain points that the market can readily relate to and solutions that are provided by your offer
Testimonials from happy, satisfied customers
Moneyback guarantee when selling products
A count-down timer where the price may be increased or bonuses for a limited time
A prominent button to buy, register, download, etc.
List Building and Follow-up Via Email Marketing
Any successful marketer will tell you that the size of the email list is directly related to the profitability of the business. Regardless of what you believe about email marketing, it still remains one of the highest converting and sales strategies. Unlike spam email that no one welcomes in their inbox, customers and prospects are more likely to open email from a business they perceive to be trustworthy and has provided them with valuable products, services, and/or ideas.
Automated systems that capture leads into a database or mailing list for automatic follow-up can significantly help with branding and ongoing sales. You've all head the saying, "Out of site, out of mind." This is why it is so important to stay on your prospects radar with regular follow-up emails and/or text messages. By sending email automations to converted leads and customers, these reinforce business branding, entice prospects to convert into customers, and encourage customers to upsell their purchase, buy additional products and services, and leave ratings and reviews.
When automations are tied to customer interests and buying behavior, customers and prospects can automatically be moved into a list or group where they are presented with automations associated with their interests and purchases. Often these are products and services that are more exclusive and costly.
Sales funnels work much the same way as lead funnels except that they include upsells that are automatically offered to the customer who has completed the initial purchase. With both lead and sales funnels, the ability to automate follow-up emails for a variety of purposes is essential for sustaining business growth. Otherwise, the lead or customer quickly forgets about the business regardless of how good the offer appears to be.
Rather than rely on an independent lead funnel system which is more costly over the long term, it is always best to design lead and sales funnels using pages within the business website – preferably in a WordPress website where a great deal of low-cost options allow for maximum flexibility in designing  funnel pages and strategies. Lead and sales funnels are part of an effective strategic plan offered as a digital marketing service.
Need Help with Strategic Lead Funnels for Lead and Customer Conversions?
We invite you to request a free consultation with a complementary analysis of your online presence and strategies to help you with lead generation and/or sales. This will be an informative session without any pressure to identify what you are doing well and to suggest improvements that can enhance your results.
Download Local Business Marketing Reports for FREE!
Two Valuable Local Business Marketing Reports:
(1) How to Get and Stay Ahead of Your Competition in Any Local Market: 8 Strategies for Local Business Success Regardless of Industry and

(2) What Local Businesses and Professionals Must Know About Video Ranking to Get & Stay Ahead of their Competition. This report reveals YouTube production and marketing video strategies that will rank your videos on top of Google and YouTube search results – getting you views, clicks, subscribers, shares, and traffic!

These free reports are packed with powerful information and strategies that most digital marketing companies don't even know about.

Get Immediate Access now by clicking the button below.