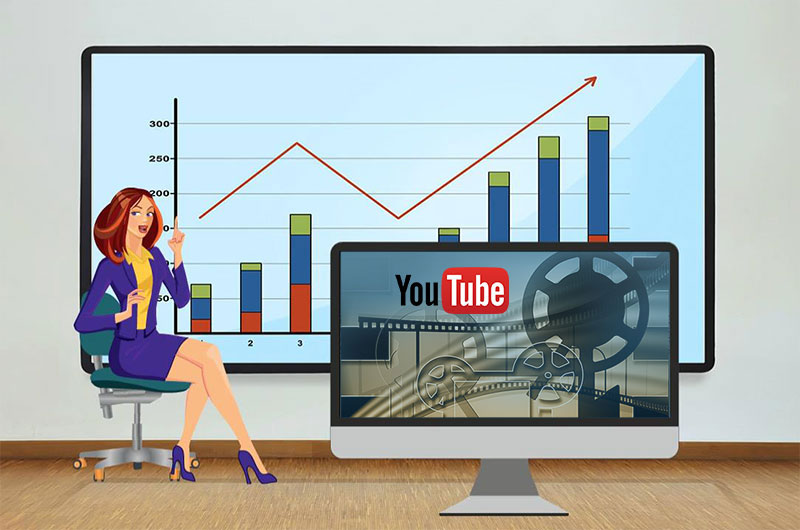 If you have no video ranked to the top of Google and YouTube to attract your local market, you're missing most of the people searching for your type of business in your local area who are ready to take action and who prefer to get their information through video. Google owns YouTube so it's understandable that they would give ranking priority to YouTube.
Do you know that video is a trend that has grown from 1 million daily views in 2013 to almost 5 billion daily YouTube videos viewed in 2017?
Where are the people finding your products and services from video in search results going? Probably to your competitors who have video and answer their questions. Those business owners are building a following of quality prospects and loyal customers who are eager to share their information with contacts, friends and family. But it's not too late for you to use video marketing and get the same great results. First you must know a few important things about video.
Video Should Be Short, Relevant to the Search and Get People to Take Action
People have a short attention span when it comes to online content. You have only seconds to draw them in, keep them watching and getting them to take action. Videos should be 30 – 60 seconds in length. The right kinds of short videos that engage your market and keep their attention are critical for your success. You are an expert where it comes to your products and services but probably not an experienced marketer. Only a professional skilled in script writing and video services can produce video designed to get viewers to click through to a website or place a call.
Kinds of videos for local businesses that work really well…
Videos produced to match specific queries in keyword searches within a geographic area have the highest probability of producing a click or a call. That may mean an overview about your company's products and services and what sets you apart from competitors. It might be one or more testimonial videos where customers talk about their satisfaction and results from your services. One of the highest converting types of video are FAQs – common questions that customers ask in your industry and type of business.
Videos can be animated, whiteboard, spokesperson or a combination. They should also include an intro and an outro with an effective call to action.
Can you really afford to ignore video in your marketing plan?
What is one new customer worth to you? How about their hundreds of friends, family and contacts in social media that they love to share information with? Are you blowing through an advertising budget without a return on investment because of weak and ineffective content? Maybe your landing page is not mobile friendly.
Cutting corners when it comes to your marketing is like throwing money away – it seldom produces a return on investment. An investment in video production and marketing that ranks your video on top of Google search results will pay for itself over and over.
Whether you are doing PPC advertising with video, building subscribers in a YouTube channel or just adding powerful video to your website, video production and marketing is one of your best and lowest cost marketing investments – a strategy that can put you way out in front of your competitors where you grow your brand, revenues and dominate your marketplace.


What to Expect from WebPuzzleMaster Video Production and Video Marketing Services
We specialize in helping local businesses to get found online through video production and marketing services. Our video marketing services combined with video production, video advertising and high converting video landing pages are designed for customer acquisition, customer retention, and market domination. We help you to achieve a substantial ROI with sustainable business growth. Your path to success begins with a free consultation. Click the button below and request yours now.
Request a Free Strategic Video Marketing Consultation
We not only create and rank video to top positions in Google and YouTube, unlike most video marketing companies, our services are designed to produce the rapid growth of your company at the greatest ROI. We use high converting video scripts, artwork, production, video landing page creation and video optimization with strategies that help you to rank very quickly. Our consultations are free and available through phone and screen sharing. Contact us now by clicking the button below.