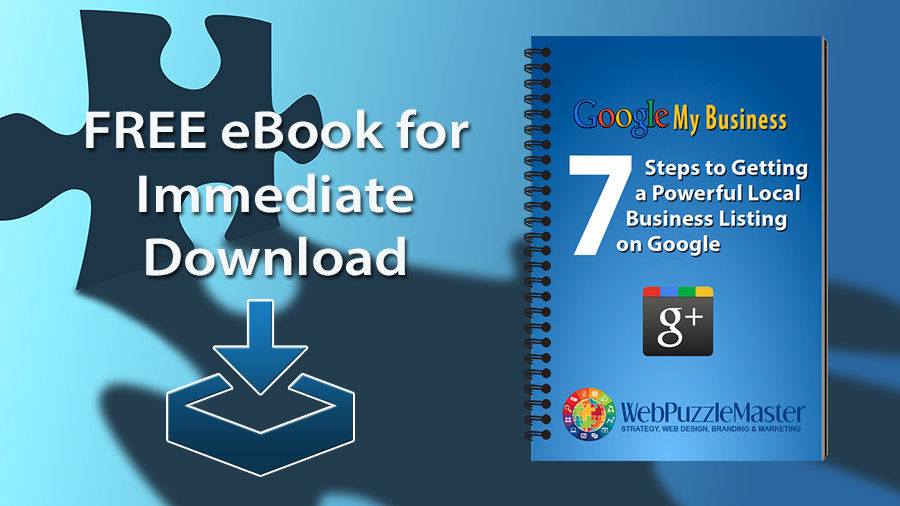 If you're feeling frustrated and angry that Google is constantly changing, you're not alone. As soon as you think you figured out how to work with Google's products, you find something entirely new. The latest is called Google My Business. Google doesn't do this to drive you crazy. Once you understand their purpose and how to use it, you'll probably get very excited about this powerful new opportunity for your local business.
Why Google Developed Google My Business
Google keeps evolving with a mission to better serve people using their search engine and advertisers. Google's changes are largely based on important trends. Google wants searchers to find what they're looking for quickly and in a mobile friendly format. It is because of trends toward use of mobile devices that Google now penalizes websites that are not mobile friendly. Another important trend is that people are looking for local services – everything from attorneys, chiropractors, doctors, dentists, home repairs, beauty services, restaurants and much more. Google acted on this trend initially with Google Places and then through Google Plus Local which when properly optimized, puts a local business on the first page of local search results for some of your most important keywords – and all for free. But it also provided a portal where visitors could view your profile, YouTube video, photos, and connect with prospects, customers and other business owners through their circles. Google Plus local also gave you access to Google map listings that displayed your reviews and photos on top of search results.
But many of Google's products were not connected and this produced a great deal of confusion. And Google wanted to make it even easier for local businesses to achieve an effective presence in local search results and benefit from a powerful local listing.
The Introduction of Google My Business
In 2014, Google introduced Google My Business for local business. Through this new development, Google made it easy for local businesses who already had a Google presence and those who were just starting out to manage all their Google products in one easy-to-use interface. Existing Google users with a Google Plus Local page, map listings, YouTube channel and photos were automatically migrated to Google My Business.
For those just setting up a Google My Business local business account, their Google Plus page and Google maps are automatically created. Then as other Google account information is added such as YouTube, reviews, Google Analytics, AdWords and company photos, they are immediately accessible within this one easy to manage interface.
When Google My Business is properly optimized with the right content and keywords, local businesses have ready access to their hottest market of local customers through local search including Google local and map.
It is important to mention that even when your Google local presence is optimal, Google will penalize you for failing to identify and correct NAP citation errors in other local search engines and directories. That is why we also include more information about these important local citations and how to detect errors later in this report.
Probably by now you are seeing the value of having a local Google My Business listing including an effective local Google+ page. Google's requirements for a local Google+ page are fairly liberal. The business must contact with customers in person during its stated business hours. They even allow for ATMs, video-rental kiosks and express mail dropboxes, provided contact information for customers is included.
In the screenshot that follows, you will see how a Google My Business page allows you to access and manage your contact and profile information, insights, reviews, analytics, YouTube channel, AdWords and Google plus page all from one easy interface.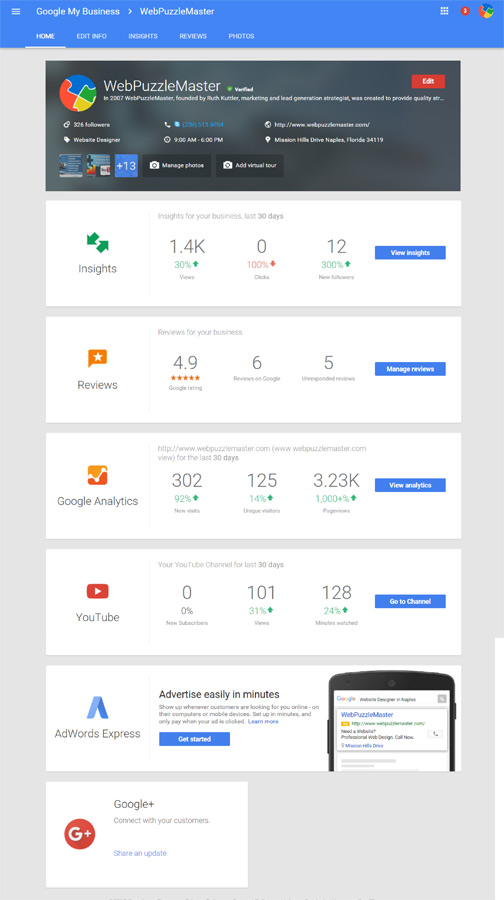 How to Get a Google My Business Account
If you already have any Google products for personal or business including gmail, Google+ or YouTube, then you already have a Google account. If you are just starting out, begin by creating your new Google account.
Sign In (existing accounts) or Create Google Account (new accounts)
Sign in: https://myaccount.google.com/intro
Create new Google account: https://accounts.google.com/signup
What Have You Learned…
In this post, we have provided information about the reason for Google's changes and the Google My Business interface that provides easy access to all Google's local business marketing and advertising products. In our next Google My Business post, we will show you how to create a powerful profile in your Google My Business account.
Google My Business eBook is No Longer Available as It was Out of Date. GMB content is primarily accurate and a listing is highly recommended for all local businesses.
In place of the eBook, 2 power-packed local business marketing free reports are available with immediate access from the link below.
Download Local Business Marketing Reports for FREE!
Two Valuable Local Business Marketing Reports:
(1) How to Get and Stay Ahead of Your Competition in Any Local Market:8 Strategies for Local Business Success Regardless of Industry and

(2) What Local Businesses and Professionals Must Know About Video Ranking to Get & Stay Ahead of their Competition. This report reveals YouTube production and marketing video strategies that will rank your videos on top of Google and YouTube search results – getting you views, clicks, subscribers, shares, and traffic!

These free reports are packed with powerful information and strategies that most digital marketing companies don't even know about.
Get Immediate Access now by clicking the button below.