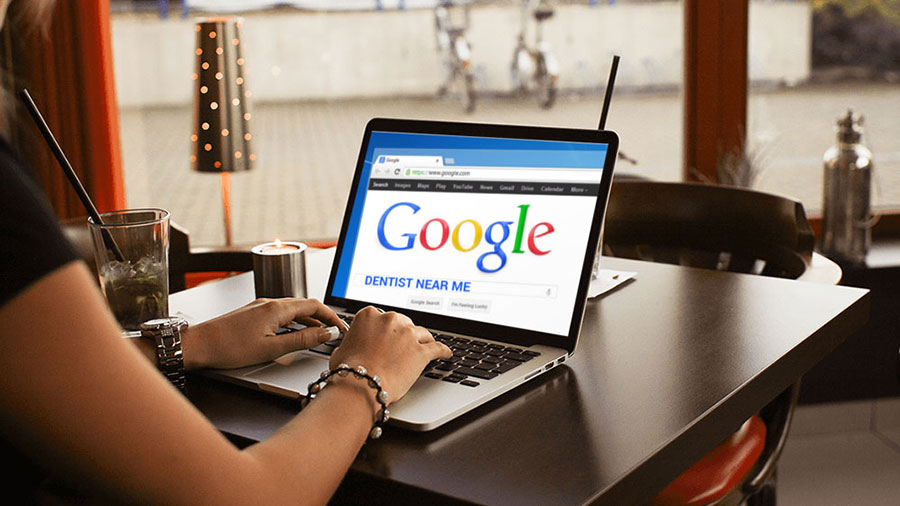 Preparing your business profile for Google My Business is not something to take lightly if you want to build a strong company brand and establish credibility with your largest and most important market of local customers. There is no doubt that Google provides the greatest reach to your local customers.
One of the biggest mistakes that businesses make online is to set up their Google account without giving it much thought or preparation. This is like handing someone an unprofessional business card – one that is likely to end up in a trash bin and drive business to your competition. You have one opportunity to get in front of your market and get them to notice you in a positive and powerful way. Whether online or in person, making your best impression with what you say and how you say it, is directly related to your success.
The content that you make available online must be accurate, complete, engaging and powerful. It should set you apart from your competitors and make it instantly evident that you are their best choice.
This post will help you to prepare an effective profile for Google. Some of the content you prepare can be used for creating an effective, powerful and branded presence in other local search engines and directories. Creating local listings in the right places with accurate, engaging and powerful content will boost your Google rankings and make it easier for your local market to find you.
How to Create an Effective and Powerful Google My Business
It is strongly recommended that you prepare your profile information prior to setting up your Google My Business account. The information should not be a duplicate of other content that you may have on your website as your page ranking can be reduced. It is suggested that organize your profile content into folders that are clearly labeled and easily accessible. Besides storing documents on your computer, consider organizing your data on Google Drive. You might have a folder called Google and sub-folders for profile, categories, photos and video. Create your text content in a text document. Your formatting options in Google will be limited to simple bullets, italics, underline, bolding and links. You can use some creative formatting to make your profile more engaging and even include an effective call to action. Some of your profile information may also be used in local search engine, directory and app listings.
Business Profile Content:
Business Name
Complete Business Address
Business Phone Number
Business Email (optional)
Hours of Operation
Introduction
Website
Business Categories
Images
Video
Business name:
Your business name should be accurate and consistent wherever it is listed. Make sure spelling, punctuation and capitalization are always exactly the same and match corporate documents. Your rankings in Google local search and map listings will be reduced even when minor inconsistencies are present.
Address:
Include your business location accurately and consistently. Do a search to find out if you already have a listing in Google. It is not uncommon to find that you already have listings that you didn't even know about. If this is the case, it is important to claim those listings to get access for editing and have duplicate listings removed.
Phone Number:
Use your accurate business phone number.
Business Email:
This is optional but can increase your lead and sales conversions.
Business Hours:
Even if you offer services by appointment only, include business hours when you provide services in all your local business listings.
Introduction:
This is information about your company, products and services that adds credibility and builds trust. Consider starting with one line that is clear and concise about what you do and who you do it for. This information will appear in the about section of your Google Plus page. Include in your introduction, relevant keywords that are most descriptive and likely to be searched by your market. Formatting your text with bullets and bolding and including keyword rich anchor links will make this information a lot more readable and engaging. Here is an example of how you can write and format your introductory information.
Website:
Once your account is established, you will need to verify your domain with Google. We will show you how to do this later but most local business owners delegate this task to their webmaster. You will also want to test your site for mobile friendliness and page load time.
Business Categories:
In the category form field, type in keywords. As you type, related categories will display. Select categories that are highly relevant for the services or products you provide. It is best to select fewer categories that closely describe what you do.
You can also use a free tool to identify available categories in Google and some other search engines and local directories. This will save you time in identifying categories for local directory listings. The tool is available at https://moz.com/local/
Images and Video:
It is best to use images from your actual business whenever possible. Only use images that you have permission to use. Title your images and video to be descriptive of what they are about. Consider adding city and state to titles. Use hyphens between words to eliminate spaces. Add images and video to labeled folders where you can find them to allow for easy access when prompted to upload files.
What Have You Learned…
Through this post, the value of an accurate, complete, engaging and powerful profile information has been revealed. You have also been provided with some information that will help you to organize your  data for easy access.
In our next Google My Business post, we will show you how to set up your local Google My Business properly, and how to get rid of duplicates and errors that can hurt you rankings and cost you leads and customers.
Google My Business eBook is No Longer Available as It was Out of Date. GMB content is primarily accurate and a listing is highly recommended for all local businesses.
In place of the eBook, 2 power-packed local business marketing free reports are available with immediate access from the link below.
Download Local Business Marketing Reports for FREE!
Two Valuable Local Business Marketing Reports:
(1) How to Get and Stay Ahead of Your Competition in Any Local Market:8 Strategies for Local Business Success Regardless of Industry and

(2) What Local Businesses and Professionals Must Know About Video Ranking to Get & Stay Ahead of their Competition. This report reveals YouTube production and marketing video strategies that will rank your videos on top of Google and YouTube search results – getting you views, clicks, subscribers, shares, and traffic!

These free reports are packed with powerful information and strategies that most digital marketing companies don't even know about.
Get Immediate Access now by clicking the button below.