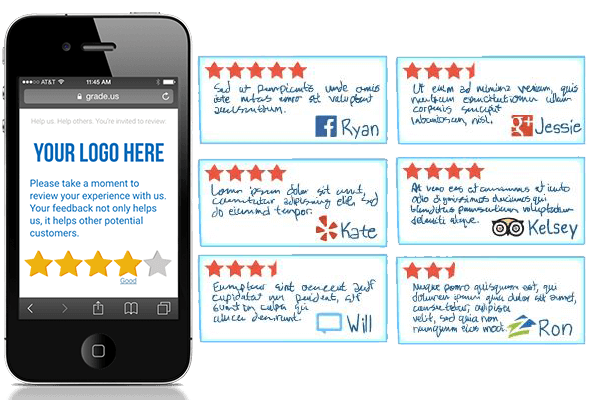 Getting a steady stream of positive Google reviews from satisfied customers is one of the most important local business online marketing strategies. Most local businesses understand the value of Google reviews for attracting more leads and customers. Reviews are an important algorithm that Google uses for ranking purposes. Current reviews are given a higher search engine ranking,  Here are a few review statistics that make it evident why reviews are so important for local business online success.
Review Data from Forbes
According to Forbes, online reviews have a significant impact on decisions made by people looking for all types of local business and professional services. Their research found that:
90% of people use reviews as their first step before visiting a business.
84% of people trust online reviews as much as a personal recommendation.
74% of consumers say that positive reviews make them trust a local business more.
Every one star increase in a Yelp rating means a 5 to 9% increase in revenue.
Review sites most important to local businesses include Yelp, Google, Facebook and Industry specific sites.
Bad reviews can be even worse for a business than no reviews. They can damage brand loyalty and quickly repel would-be customers and clients. The damage may be insignificant but more often, negative comments in an online review can send droves of potential customers looking elsewhere to spend their money.
The damage is proportionate to the number of negative reviews. After reading a single negative review, 22% of consumers reported they will not buy from that business. That number increases to 59% after three and 70% after four or more negative reviews.
Attorney Review Data
According to a study by LawyerMarketing.com:
An overwhelming majority, 264 of the 316 participants, reported that a law firm needs to have a score of 4 or 5 stars. Nearly 84% said that a law firm would need to have review scores of 4 stars or higher before they would hire that firm.
Consumers within the study were not only looking for 4-5 star reviews, but they are also looking for sufficient numbers of reviews as a measure of validation. The quality and number of reviews are more likely to produce clicks than the ranking order of the firm in the search results.
Review research by ReviewTrackers.com

83% of people use lawyer reviews as their first step in finding an attorney.
70% are willing to use an attorney in an inconvenient location if they have better ratings and reviews.
Quality of service and years of experience are the two top criteria important to searchers but 38% base their decisions on the overall rating.
87% reported that Google was the most important. This was followed by Yelp and Facebook. Avvo and Lawyer.com were far less important.
Healthcare Review Data
Findings of a study of 4,515 patients by SoftwareAdvise.com:
62% of patients use online reviews to evaluate physicians (the majority of patients)
45% of patients consider the quality of care the most important information in making a decision.
Over 25% will go out-of-network for a doctor who has similar qualifications to an in-network doctor, but has more favorable reviews.
Yelp is the most important review site but Healthgrades is the most trusted when selecting a physician.
According to Convergys, a leader in the consumer care industry:

A single negative review can cost a doctor 30 customers – it will cost a doctor new patients and word of mouth patients that new potential patients would have brought.
80% of consumers will change their mind about a brand after reading a single bad review.
Leading Technology Source
VentureBeat, an American technology site reporting news, data, and analysis, reported that only 2% of consumers are likely to use a business with no reviews or ratings. They compare this to companies with positive reviews who convert 183% more new business then companies with negative or no reviews.
How to Get Reviews
By now I'm sure you're convinced that reviews are not something to overlook. Having an automated system to solicit reviews from your customers is always the best approach. This can be accomplished through the integration of an API (data feed) with a customer relationship management (CRM) system or a customer database that stores contact information.
A system for getting reviews triggered by the fulfillment of a product purchase or service can help a business acquire many more new customers. Of course, this can also be accomplished manually by sending an email with review links after a purchase is made.
Getting Review Links for Facebook and Google
Review links for Facebook are https://www.facebook.com/username/reviews/ where username is replaced by the business's username.
To get a review link for Google, On your computer, sign in to Google My Business. If you have multiple locations, open the location you want to manage. In the left menu, click Home. In the "Get more reviews" card, you can copy your short URL to share with customers.
To get review links from other sites, go to the site and search for your business name. If you have a profile, you can link to your listing on that page where there is a button to add a review.
Responding to Reviews
Responding to reviews is a measure of authenticity and is used by Google for ranking. Every time a review is posted by a customer in Google, the business owner will get a notification about that review with a link to add a response. Other review sites may also send an email notification with a link to respond. It is important to add responses to all reviews.
Whether you need a manual or automated system to solicit customer reviews or have negative reviews removed, request a free consultation to find out what we can do to help.
Star Ratings in Google Search Results
Imagine the impact on your website traffic when you come up in Google search results with review star ratings. A particular type of code called schema markup is a SEO strategy that can get the immediate attention of searchers. This can turn even lower search results into clicks to your website.
Enhance Your Online Presence with More Positive Customer Reviews
We invite you to request a free consultation with a complementary analysis of your online presence. This will be an informative session without any pressure to identify what you are doing well and to suggest improvements that can enhance your results. We may also reveal some strategies that will allow you to outperform your competitors, regardless of industry or competition.
GET A FREE SCAN OF YOUR REVIEWS & REPORT FOR YOUR BUSINESS!
Use our FREE REVIEW SCAN to generate an instant reputation report and see how your business appears on local review sites. You'll also see how you compare with your top competitors.
SIGN UP FOR A FREE REVIEW SCAN & REPORT