If you set up a Google My Business account for your local business, you obviously already know the value of Google local search and map listings for reaching your hottest market of local leads and customers. But did you know that more than 250 million customers are searching for local services using other local search engines, directories and apps? And if you're not listed there too, you don't have any access to this other very hot market.
Maybe you signed up for some local listings but you don't really know what you listing information looks like. It could very well have errors in your name, address and/or phone number. Chances are these listings are bare bones and will get passed over by the more impressive enhanced listings with photos, video, descriptive information, reviews and links. Not only will those NAP errors and plain boring listings cost you leads and customers, they will limit your local SEO search rankings with Google. Google values consistent information across all search engines and directories and rewards businesses with consistent information by giving them higher rankings and access to their local market.
Check the Accuracy of Your Local Directory Listing Information
Besides Google, you will want to check the accuracy of your business listings in Bing, Yahoo, local search engines, and local directories. There are two great tools for accomplishing this and identifying citation listing errors.
Moz.com local search will find errors and show whether your domain is verified.
Yext PowerListings will find errors and provide you with options to correct them easily in over 55 local directories, search engines and mobile apps used by more than 250 million customers.
Moz.com Local Search
With this tool, you can easily check your listings in Google, Bing and other local search engines at https://moz.com/local/search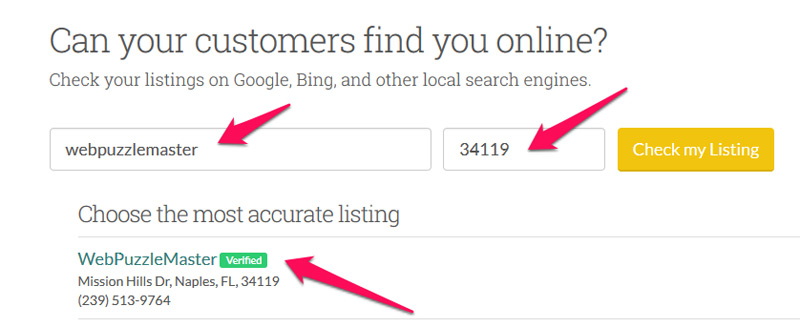 If you see only one business listing and it is accurate, that is great news! But if you have duplicate listings that are slightly different, this will affect your rankings. Errors must be corrected and duplicates removed.

Yext PowerListings
Besides identifying your local listings and easily determining errors across a network of 55+ local search engines, directories and mobile apps, Yext will provide you with a real time scan that includes a detailed report for free.  Yext allows you to correct citation errors with a single listing that is distributed across an extensive network of local listings and removes duplicates. But even more, Yext allows you to be listed in up to 10 categories and provides for enhanced content in most listings. This creates a much more powerful presence where customers are searching locally for your services.
Enhanced content options include descriptions for all your products and services with photos, video and links, staff bios and menus. You also can post keyword optimized content about specials, events and news to your Facebook and Google+ through Yext. Learn more and get a free scan.
Request a Free Consultation
Whether you are a local business, entrepreneur, attorney, healthcare provider, or eCommerce merchant, we have digital marketing skills and strategies to help your business succeed. Ask us how we can help you through social media marketing and other services that engage, convert, and grow your brand and revenues. Our consultations are free and available through phone and screen sharing. Contact us now by clicking the button below.