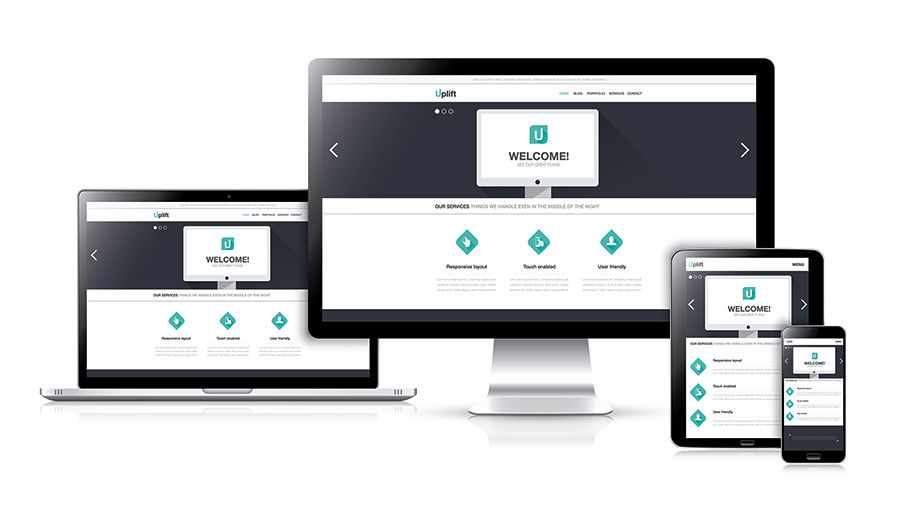 Of all ready-to-use content management system or CMS software, WordPress by far is the best platform for ease of use, versatility and performance in search engines. When it comes to SEO and SEM, properly optimized content in WordPress can rapidly become available in organic search listings because of integrated permalinks, powerful SEO plugins, and a built-in connection with Ping-O-Matic, a service that automatically updates different search engines whenever blog content is published.
WordPress Design and Development from responsive WordPress themes
Years ago and before responsive design, like many other companies, my website projects were based on custom development. Even WordPress projects were custom web development projects. The main problems were that it was very expensive, time consuming and the functionality was limited. Once I discovered WordPress themes that were full of functionality, had CSS or style sheets that helped elements to display properly, I realized I could develop a website much quicker and for much less cost.
Today, responsive WordPress themes have improved considerably but many are not ready to go. In fact, most need quite a bit of customization and some have problems that can't be fixed or are very time consuming to fix. Often you don't know about problems and limitations until you start using a theme.
How do you choose a good WordPress theme?
Free themes that are included with WordPress are limited, and there is no support. Sites developed from free themes lack a professional look and feel that is present in paid themes. Other free themes are also available but are not responsive as a rule. For these reasons, I never recommend using free themes for business Website design and development.
General business themes and themes for particular types of providers and industries are available for a nominal fee and are well worth the investment. A good place to find themes is a site like ThemeForest where you can search for themes, review a live demo, and view the number of sales as well as rating and reviews.  Even among the paid themes, not all themes are easy to customize or to manage. Many need quite a bit of CSS changes to solve general design and responsive issues. Limited built-in functionality is another common problem. You can always add functionality through plugins but there can be plugin conflicts with the theme. Some themes are not appropriate for the purpose of the project.
I often recommend a theme that is ideal for responsive landing and sales pages called OptimizePress 2.0. This theme has been around for a while now and many of the initial problems have been resolved with upgrades. This theme can serve as a comprehensive website, blog and provide any number of opt-in, lead generation and sales landing pages. Included with this theme is a powerful membership plugin providing options to generate ongoing revenue through a paid membership program. You can also add an affiliate program to leverage sales and produce even more residual income. OptimizePress 2.0 also has a very good blog which is extremely important for SEO.
If you're looking for ecommerce within a business site, I just completed a project using the WordPress theme called Total that I really liked and will definitely use again. For realtors who want a strong presence and the ability to add featured properties and searchable properties from an IDX database, I  recommend a responsive WordPress real estate theme called Realto.
Sometimes themes will experience problems that require an update. Problems may be due to bugs within the theme and/or updates in wp and plugins that produce conflicts with the theme. Child themes can be created to prevent customization changes from being overwritten when themes are upgraded.
Need Some Help with Your Website Design and Development?
If you are ready to take your business to the next level, then please request this 30 minute consultation, personally conducted by me, Ruth Kuttler, the director and project strategist for WebPuzzleMaster. For more than a decade, I have helped many types of companies to improve their marketing results. Please be assured that this consultation will not be limited to a discussion of website design and development. It will provide you with a strategic marketing plan based on an analysis of your current online presence and your top three competitors. This powerful session will show how you compare to your competitors, strategies they are using to achieve market domination and what you can do to more than exceed their results. There is no charge for this call, but the call must be strictly limited to 30 minutes.
Request a Free Consultation
Whether you are a local business, entrepreneur, attorney, healthcare provider, or eCommerce merchant, we have digital marketing skills and strategies to help your business succeed. Ask us how we can help you through responsive website design and development, video, social media, and marketing services that engage, convert, and grow your brand and revenues. Our consultations are free and available through phone and screen sharing. Contact us now by clicking the button below.