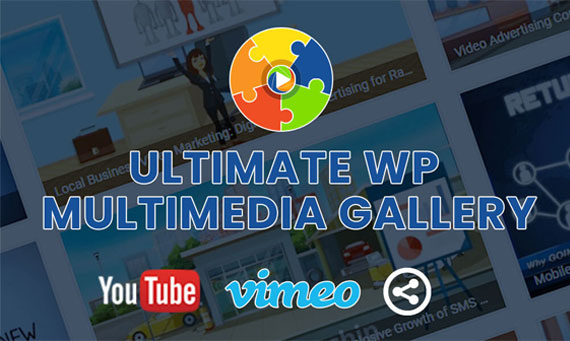 ULTIMATE WORDPRESS MULTIMEDIA GALLERY & PROFIT BOOSTER
The most powerful Multimedia Gallery for WordPress, Ultimate WP Multimedia Gallery is a plugin for images and embedded YouTube and Vimeo video designed for boosting profits.
This fully responsive gallery offers a powerhouse of tools for driving engagement, website traffic, link building, content syndication, and YouTube channel subscription without losing contact with the website. Its conversion call to action button labels and links for each item in the gallery, make it ideal for sales, opt-in list building and appointment conversions.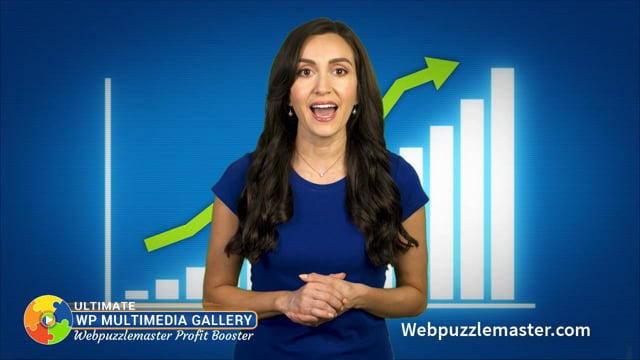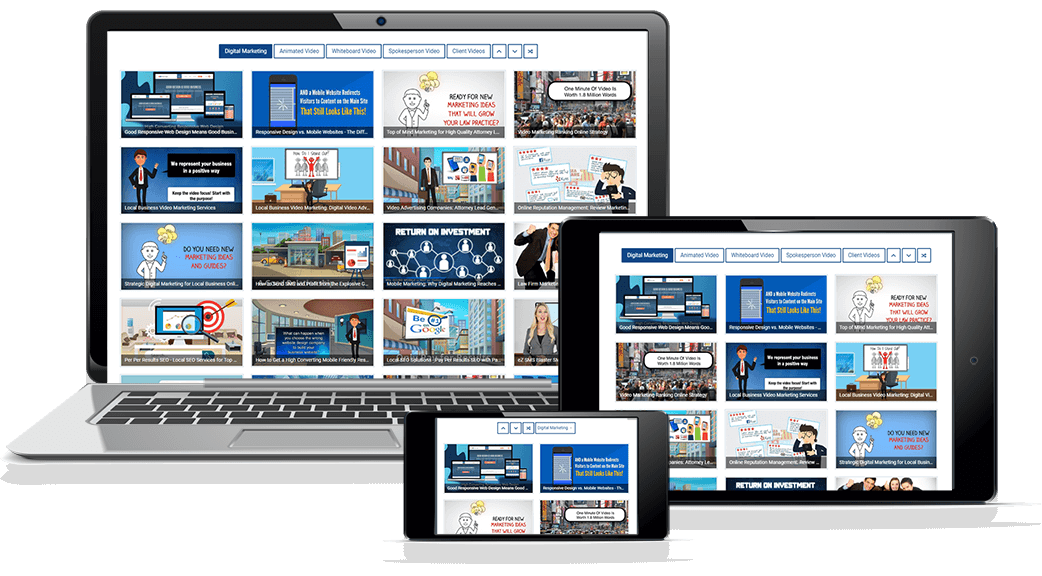 IMAGES AND VIDEO
for engagement & targeting
Add your images with or without embedded YouTube video from your channel or use YouTube from the public domain – content that supports your goals to educate, inform, persuade, or entertain your market. Then enhance your conversions by adding keyword rich descriptions with hashtags and/or geo tags that drive targeted traffic.
SEO TOOLS
that build backlinks and boost traffic
Using your multimedia gallery to drive more traffic and build powerful SEO backlinks is easy. Include relevant keywords along with hashtags and geo tags in your description field to drive more targeted traffic to your content from search engines.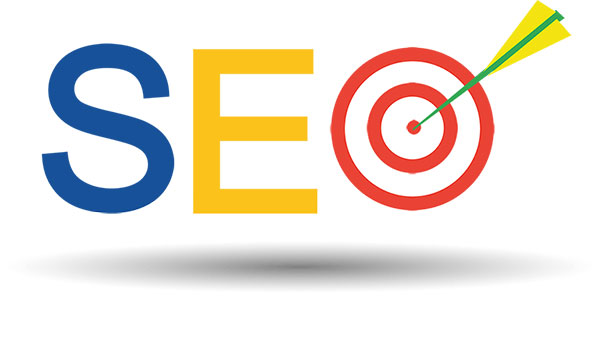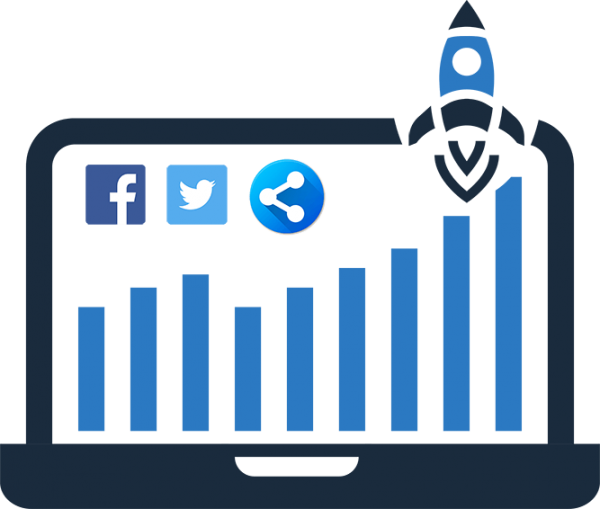 Facebook & Twitter SOCIAL SHARE
for website traffic and link building
Facebook and Twitter linked icons below each content item in a pop up display your image or video with description, hashtags, website URL and link to that content item when shared.  When the content is clicked from the social media feed, the visitor is redirected to that content on your website. This builds a powerful backlink for SEO that can drive more targeted traffic to your site.
YouTube SUBSCRIPTIONS
Add your YouTube channel to settings and check a box to display a linked YouTube subscribe button from any or all of your content items. When the button is clicked, the visitor lands on your YouTube channel in a central popup within a lightbox where they are prompted to subscribe. The visitor is then free to further explore your channel or return to your website content when the channel tab is closed.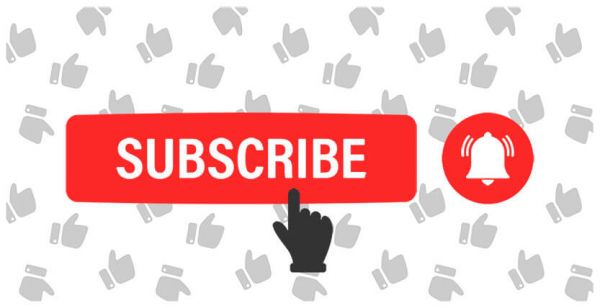 CALL TO ACTION ELEMENTS
for sales, opt-in, download, and appointment conversions
Configure unique button links for each item of content that fits your goals– perhaps to sell products, build your opt-in list, request an appointment, or download a free report. Ultimate flexibility gives you endless possibilities for labeling and linking your call-to-action buttons.
EASY INTUITIVE ADMIN
for managing your gallery content
Create any number of galleries to display unique content on selected pages or posts with short code and with or without filters. Each content item can be assigned to one or more filters and includes fields for images and video ID from YouTube and Vimeo, caption and description, call to action link and label, and a check box for YouTube subscribe. Easily sort filters to have them display in an optimal order. Assign hexadecimal color code to filter and pagination buttons to coordinate with your brand colors. Search each gallery for content by filter or keywords.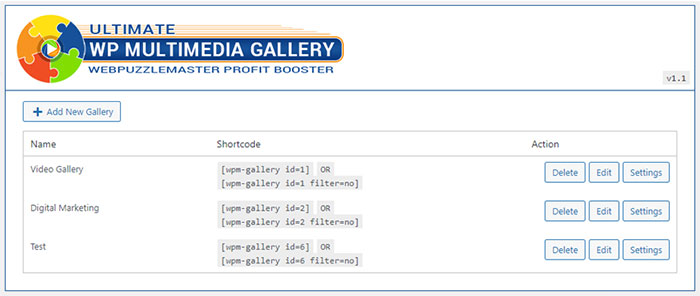 More About ULTIMATE WP MULTIMEDIA GALLERY
This responsive WordPress multimedia gallery with the ultimate flexibility in displaying images and embedded video from YouTube and Vimeo also integrates:
Social sharing with Facebook and Twitter per content item.
YouTube subscriptions without losing contact with the website.
Conversion call to action elements with custom links and button labels per content item.
Link building and other SEO functionality including hashtags, geotags, website URL, and content specific links with shared content.
The option to create any number of galleries with or without filters for easy insertion in pages or posts with short code.
Image content can be linked to an enlarged image or embedded YouTube or Vimeo video.
Color management for top filter navigation and pagination.
Gallery items can be images or embedded video from YouTube or Vimeo. These display as thumbnails with an enlarged popover when clicked that includes captions, Facebook and Twitter social sharing icons, Hashtags, customizable Call to Action elements, and a YouTube subscribe integration. Sharing through Facebook and Twitter creates a link back to the website where an embedded video is played.
ULTIMATE WP MULTIMEDIA GALLERY FEATURES
WordPress multimedia gallery
Fast loading and fully responsive
Gallery items can be images or embedded video from YouTube or Vimeo
Create any number of galleries with gallery specific filters
Galleries easily added to HTML pages with short code
Multiple galleries can be added to a single page
Full color management for header bar with filters and pagination below gallery
Pagination is enabled on front end for more than 24 items within a gallery filter
Multiple choices in lightbox display
Clicking a thumbnail produces an enlarged popover with image or video content
Image thumbnails can be linked to an enlarged image or YouTube or Vimeo video
Each item has a caption and description field that can include keywords, tags, hashtags
Facebook and Twitter linked icons below content in pop up, display content from popover with website URL and link back to item on website when content is shared
YouTube subscribe button with channel link can display with each item of content
Each item of content can have a unique call to action button text and link
Keyword and filter search functionality in admin for each gallery
DEMO ULTIMATE WP MULTIMEDIA GALLERY
Demo styles and functionality for Ultimate WP Multimedia Gallery by Webpuzzlemaster. Explore the range of possibilities revealing how to use this powerful and unique WordPress multimedia plugin to increase traffic, backlinks, and YouTube subscribers along with conversions ranging from list building to sales, appointments, downloads, event registrations and more.
FREQUENTLY ASKED QUESTIONS
Can this gallery be used with any WordPress theme?
Yes, and it displays optimally on desktops, laptops and all mobile devices.
Are other plugins needed for social sharing?
A free SEO plugin such as Yoast will allow content to display with the featured image or video, site URL, and link back to the content on the website.
What makes this multimedia gallery unique?
Many features and functionality make this multimedia gallery unique. Besides the ability to create unlimited galleries with or without sortable filters, each gallery content item offers options to include descriptions with hashtags and geotags, have a video display with an image thumbnail, YouTube channel subscription, and custom call to action button labels and links. The social sharing is configured for each item to include the content thumbnail, description, website URL and links to the content on the website, making this a powerful tool for SEO backlinks and website traffic.
Can I use this gallery on more than one website?
Each license can be used for only a single domain. Customers have the option to view licenses purchased, domains where each license is active and to deactivate a license to allow it to be used on another domain.
What is your support policy?
We provide support for functionality and design issues where the plugin is not displaying properly on desktop and mobile devices. We do not provide free support for issues with conflicting code from other software or sources.
BUY ULTIMATE WP MULTIMEDIA GALLERY
Take your business to the next level with this profit boosting responsive WordPress multimedia gallery. Use your image and embedded YouTube and Vimeo content with powerful social sharing, SEO, and call to action elements.  This unique gallery provides you with powerful tools to drive engagement, increase website traffic, build links back to your website, syndicate content, get YouTube channel subscribers, and increase profits through custom call to action button labels and links for each item. The onetime affordable cost of Ultimate WP Multimedia Gallery make it a no-brainer for any business to boost revenues, even those on a shoestring budget.