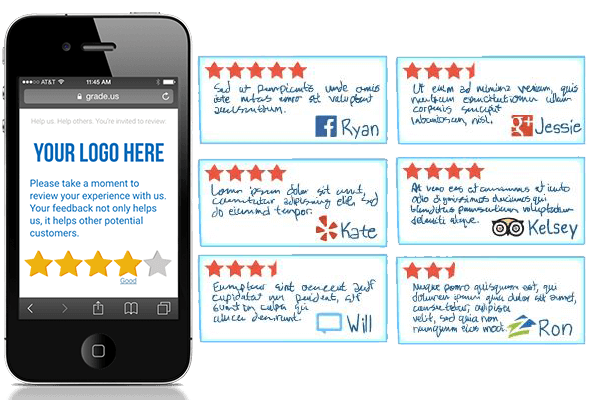 If you're a local business owner, you probably understand the value of positive reviews associated with your products or services. Reviews serve as social proof –star ratings and reviews are a major source of information that greatly influence a prospect's buying decision. Unfortunately, too many businesses don't request reviews from their customers. Most do not use reputation marketing – they do not know how or have a system in place to automate review requests.
Since Google is the main search engine where the majority of searches occur, getting Google reviews can produce many benefits for increasing leads, customers, and clicks to the company website. This post will reveal how to easily find your link to share with customers for requesting a Google review. It will also help you to get reviews from customers who do not have a Google account.
The Value of a Google Business Profile
The first thing a business owner needs to do to obtain Google ratings and reviews is to establish a Google business account at https://www.google.com/business/ Google My Business or GMB allows the business to make a powerful profile of information available including contact information, photos, products and services, and special offers. But a main feature of this free service is a listing in Google maps where many local searches originate.
Besides all the profile information in Google maps, prospects on GMB can also find and add star ratings and reviews that display as an aggregate review feed from the web including Google. The top 3 GMB listings display on top of search results below ads for major keywords that a local market is searching. These GMB listings include the star ratings and cumulative number of reviews – something that attracts the attention of searchers and will often influence their buying decision.
How to Find your Google Review Link to Share
Finding a sharable review link from Google is easy from your GMB page on a desktop computer. Just go to Google while logged in and search for your business. Most likely, your listing will be in the top position. On the same screen from a desktop computer, your GMB profile will display on the right side. Scroll down to the review section and click on the button that says Get More Reviews. This will open up a popup with your shareable review link that you can copy and store on your computer. Now you're ready to get Google reviews from your customers.
How to Request Your Google Review
Send your customers an email, text message on Whatsapp, or message in Facebook Messenger with your link and a short message that may be something like:
Hi [First Name],
Your rating and review on Google can help others to get your valuable feedback about our services. It is very much appreciated.
To give a rating and review go to this link:
Add your link here.
Sign with your company name.
How to Get Google Reviews from Customers Who Do Not Have a Google Account
Maybe you're not too concerned about getting reviews from all customers. But knowing how to help a customer leave a review in Google who does not have a Gmail account may come in handy. Recently I was asked to create 2 extensive PowerPoint presentations (not my usual digital marketing service), for a man who had no online presence and didn't even own a computer. Although he was more than happy to give me online feedback, his only email was AOL and he had no interest in having a Google account. You never know when you may run into this same problem so it is a good idea to know how to guide your customer without making them frustrated and confused.
I left him these instructions and screenshots and he was able to leave the review without any problem.
STEP 1: Send review request by email and/or SMS text message with your review link.
STEP 2: Tell customer to click on button below reviews that says "Write a Review."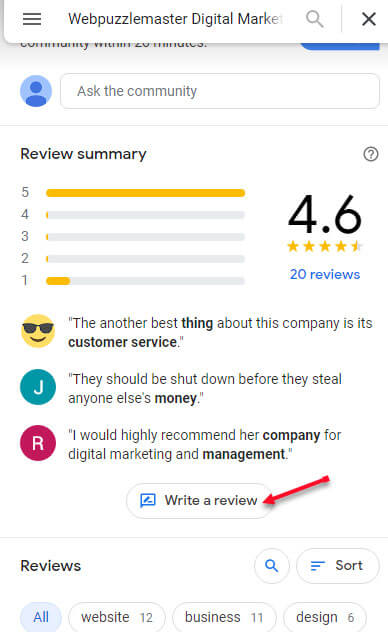 STEP 3: Click on create account and click on NEXT.
STEP 4: Select the option "for my personal use."
STEP 5: Click the link that says "Use my current email address instead."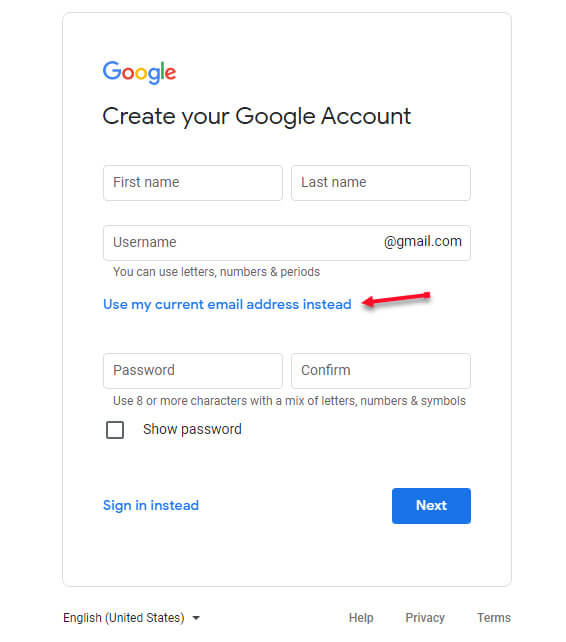 STEP 6: Complete the name, email, and password fields and continue to review fields.
Automating Review Marketing for your Greatest Success
This example illustrates why manual review management is time-consuming and inefficient. There is no question that making the review process easy for customers will increase the likelihood of them following through. And occasionally, manual instructions will be necessary. But what if you didn't have to manually send review requests to customers who might overlook your email or text message for any number of reasons?
Instead, your review management system would send out review requests for your most important review sites automatically. Customers would get 2 follow-up requests only if they do not complete the review. And if their experience was less than positive, they would receive an option to complete a form to provide feedback before putting a negative review online. Imagine the success you will have when you gain valuable insights about your business with an opportunity to turn a negative experience into a positive one before it damages your online reputation.
Need more information about Webpuzzlemaster Reputation Management Services? Let us show you how online reviews can help your business achieve record growth. Request a free REVIEW SCAN with REPORT by completing the form below.
GET AN INSTANT REPUTATION REPORT FOR YOUR BUSINESS!
Use our FREE REVIEW SCAN to generate an instant reputation report and see how your business appears on local review sites. You'll also see how you compare with your top competitors.
SIGN UP FOR YOUR FREE REPORT & DEMO